Everyone is welcome at a SMART Recovery Meeting
Get support for any addictive behaviour including drugs, alcohol, gambling, cigarettes, food, etc. SMART Recovery meetings are free and run weekly. Each SMART Recovery meeting is guided by a trained facilitator.
What to expect at a SMART Meeting
Each SMART meeting lasts between 60-90 minutes with the same format each time.
Check-in (how has your previous week been?)
Discussion (using CBT tools & techniques)
Sharing
solutions (mutual aid)
Checkout (your plan for next seven days)
Creating a safe space for everyone
Our meetings follow a number of guiding principles to get the best out of the time for everyone:
Confidentiality
No 'drug talk'
One person talking at a time
Stay in the room
Respect
No intoxication
Non judgmental
No children allowed
Mobile phones off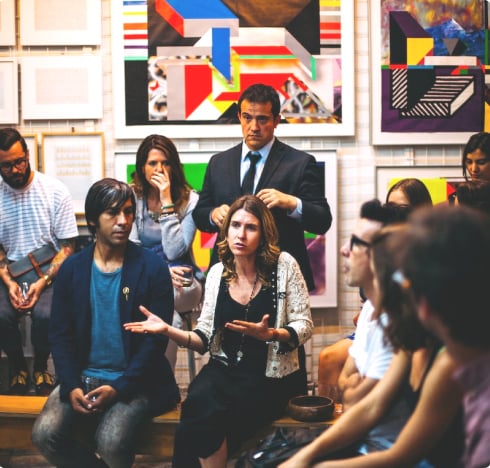 Ready to start your Recovery?
Find a SMART Recovery Meeting online or in-person near you.
What people say about SMART Recovery Meetings
"I have been attending SMART Recovery meetings for the past 15 months as part of my recovery from an ice addiction. The CBT based focus of SMART has helped me remain abstinent by assisting me to identify strategies that I can use to combat cravings and triggers, and to develop plans to deal with troubling situations as they arise."
"Since attending SMART Recovery meetings I have learnt a range of tools to assist me in managing my drinking. I have been able to explore the psychology surrounding my drinking habits, analyse when I am susceptible to binge drinking, evaluate the consequences of such actions and set clear, definable goals which I actively work towards each week."
Frequently asked questions
Do I have to appear on camera?

You don't have to appear on camera. Meetings are conducted using a combination video (optional), voice and the chat box feature. You can register for various different online meeting times below.
Can I attend for any addiction?

Yes. Our meetings focus on the BEHAVIOURS, and not the substance – meaning they are suitable for any problematic or addictive behaviour – including alcohol, drugs, gambling, as well as eating disorders.
What happens in a meeting?

The group lasts 90 minutes and there are no breaks. It is a mutual-aid interactive group where people are all there to help themselves and help each other. People report back on how their last week has been, discuss the agenda item they have put forward and what their plans are for the coming week. The SMART Recovery tools are taught and used during the meeting.
Do I have to pay?

No. Our meetings are completely free.
Are the meetings available on mobile?

Our online meetings are best accessed via laptop or desktop computers. As well as using audio, the meetings encompass a text chat box feature that isn't visible for mobile and tablet users. If the facilitator needs to mute everyone's audio, the chat box is the only way to communicate – which means mobile phones are unable to participate. If you must attend using your mobile phone, please ensure there is no background noise.
Can treatment professionals sit in on meetings as observers?

Treatment professionals are asked to please email the meeting contact that appears following
registration to seek permission before sitting in on a meeting as an observer.